Anti-Racism Activist Tim Wise Goes Viral with Searing Take on How to Defeat Trumpism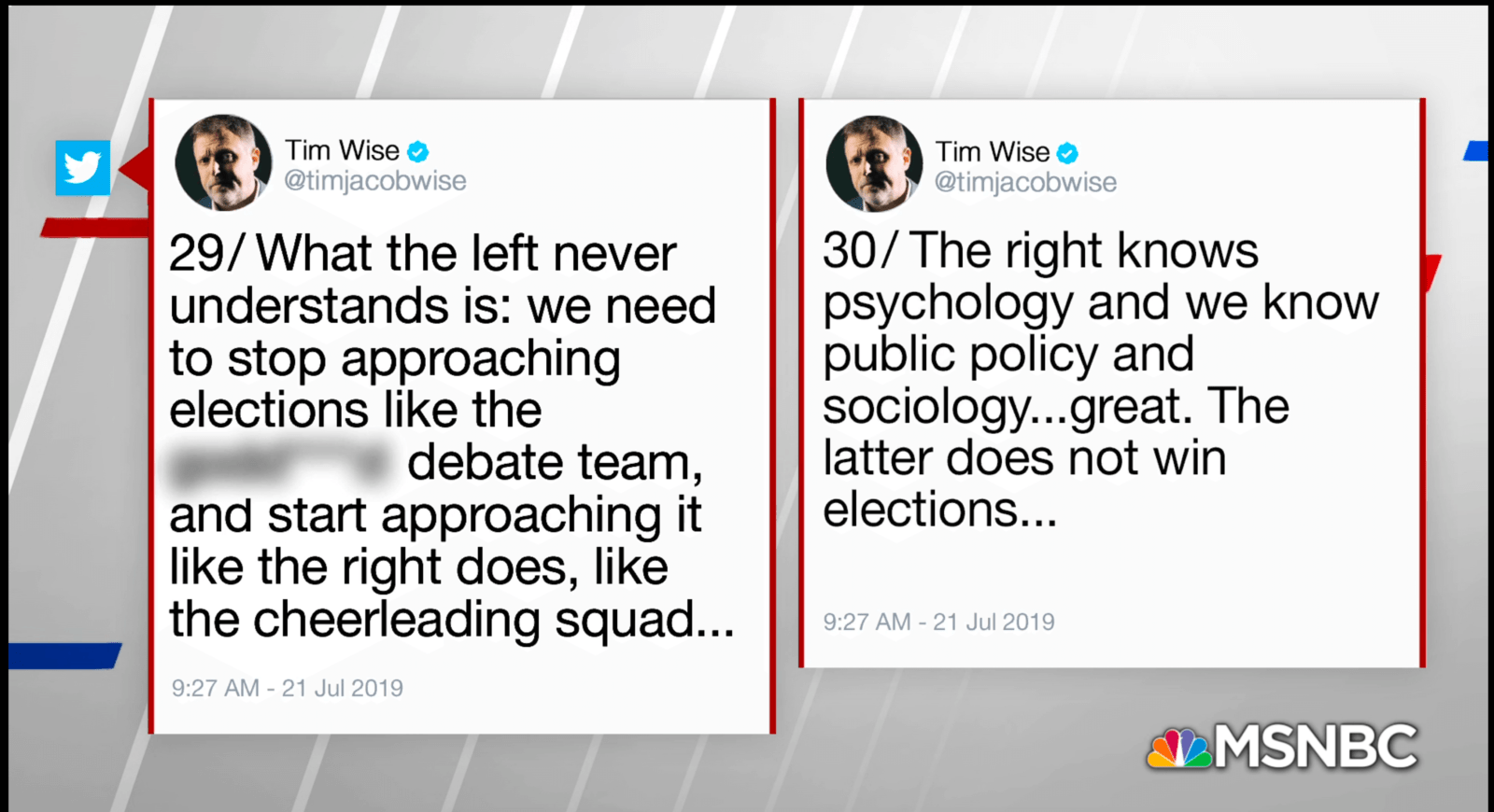 Acclaimed anti-racism educator Tim Wise, the subject of our bestselling film The Great White Hoax: Donald Trump and the Politics of Race & Class in America, has been all over the media the past few days thanks to this devastating viral Twitter thread laying out how to defeat Trumpism.
In the days since Wise's thread went viral, he has appeared on MSNBC's Hardball with Chris Matthews and written a pair of widely-discussed follow-up pieces in The Washington Post and Medium.
 
In his original Twitter thread, Wise draws on his experience working for a PAC that opposed Louisiana white supremacist David Duke's successive runs for the U.S. Senate and Governor in the early 1990s. Wise's core argument is that if Democrats want to defeat Trump in 2020 they need to stop worrying about alienating "moderate" and "undecided" voters and instead drive up turnout by explicitly taking on the anti-American racism at the heart of Trumpism.
 
"If you downplay [Trump's racism] you NORMALIZE him," Wise writes in the thread. "If you make this about policy, you NORMALIZE him. He is a racist. He is a white nationalist. He is an authoritarian. He and his cult are a threat to the future of the nation and world because of their hatreds. His movement betrays the country's promise. THAT is the message that will drive turnout. Not debates over marginal tax rates or how we are going to fund schools."
 
For Wise's broader take on how white anxiety and grievance have shaped the American political landscape over time, be sure to check him out in The Great White Hoax. Since its release, the film has been earning high praise from educators and activists as an indispensable tool for clarifying how Trumpism fits within the wider context of American political history.
 
We also urge you to check out our critically acclaimed film adaptation of Wise's bestselling memoir White Like Me: Race, Racism & White Privilege in America, which includes a section on Wise's formative experience in the 1990s working to defeat David Duke and stop the resurgence of white nationalism. 
 
We hope you'll add both of these important films to your syllabus this fall!
Praise for The Great White Hoax…
"In this searing film, Tim Wise offers a history lesson, sociological analysis, and call to action that should be required viewing for all Americans. For the sake of our democracy, my hope is that this clear-eyed film receives as wide a viewing as possible."
 
— Celeste Watkins-Hayes | Professor of Sociology & African American Studies at Northwestern University
 
"My seminar was MESMERIZED by The Great White Hoax [and] gave it the highest possible rating. I would recommend this unreservedly to show in college classes and in discussion groups, community organizations, and religious institutions."
 
— Mark Naison | Professor of History and African American Studies at Fordham University 
 
"Timely and necessary. Demonstrates that racial scapegoating is one of the oldest games in American politics and that we must defeat the narrative of fear and division in order to move our country forward."
 
— Van Jones | CNN commentator
 
"A kaleidoscopic view of a nation still grappling with white supremacy, and still riven by deep and persistent inequalities along racial lines."
 
— Stephen Steinberg | Author of The Ethnic Myth: Race, Ethnicity, and Class in America 
 
"A chilling dissection of the election of 2016, revealing what should have been clear all along: that Trump's ascendancy was fueled by hate, a hate that has long burned at the very heart of American history."
 
— Matthew Pratt Guterl | Professor of Africana Studies and American Studies at Brown University 
 
"This brilliant documentary situates the political rise of Donald Trump within decades of racial scapegoating that stokes white anxiety based on racial nativism and cultural insecurity fundamentally rooted in anti-Blackness."
 
— Kevin Cokley | Author of The Myth of Black Anti-Intellectualism 
 
"Timely and visually provocative! Makes a compelling case for the ongoing need for resistance to white racism. An excellent teaching tool!"
 
— Woody Doane | Chair of Social Sciences Department at the University of Hartford
 
"Tim Wise and the Media Education Foundation have done it again. We will remember this video for many presidencies to come."
 
— Zeus Leonardo | Author of Race, Whiteness, and Education
 
"The Great White Hoax makes clear that Trump, and his embrace of a politics of racism, toxic masculinity, and white resentment, are as American as processed, mass-produced apple pie."
 
— David Leonard | Professor of Critical Culture, Gender & Race at Washington State University 
 
"Incisive … eloquent … timely and insightful. This is highly recommended."
 
— Video Librarian 
 
"This film is a must see for those opposed to racism in all its forms."
 
— Tukufu Zuberi | Lasry Family Professor of Race Relations at the University of Pennsylvania 
 
"This invaluable educational resource arrives at precisely the right moment for professors, high school teachers, and librarians who want to help their students develop the tools to understand and resist the rising tide of racism and bigotry in this country."
 
— Jackson Katz, Ph.D. | Author of Man Enough? Donald Trump, Hillary Clinton, and the Politics of Presidential Masculinity