Intern and volunteer positions are structured around the college semester system. Positions are available for Spring, Summer, and Fall. Internships and volunteer positions are unpaid, but we are able to offer credit for currently enrolled students. Interns do not need to be registered students.
Note on COVID-19: Some of our staff are working in the office and some are working remotely. Our internship program continues as usual, though internships may be hybrid, instead of 100% on-site. 
What Kind of Work Can Interns Expect?
Quotes of Endorsement:
Research scholars, activists, and critics whose work is relevant to new releases.
Correspond with and follow up with potential reviewers
Social Media Outreach:
Write social media posts connecting MEF releases to relevant news or academic work.
Research and share interesting media literacy news with MEF followers.
Write blog posts for the MEF website.
Office Assistance:
Observe the daily operations of a non-profit organization.
Attend marketing meetings with staff.
Help with shipping and stocking.
More information and how to apply:
Production Internship
There are no current openings for Production Internships.
6-12 Credits
(2-4 days a week, 9am-5pm)
Production interns work directly with MEF producers and editors on a variety of tasks assisting in the completion of both daily and long-term operations. These include media collection and research, converting media to an assortment of different formats, transcribing, maintaining our extensive in-house news log and other responsibilities. We are looking for people with depth, diligence, communication skills and the ability to collaborate. Experience using Macs and Mac-based programs (such as Final Cut Pro, DVD Studio Pro, and/or Photoshop) is a plus.
Marketing/Administration Internship
3-12 Credits
(8 hours a week minimum commitment. Flexible schedule between the hours of 9 am-5pm, Monday through Friday.)
Marketing interns gain experience in various aspects of market and distribution research, outreach, and public relations. Marketing interns assist in projects such as monitoring and posting to our social media sites, creating and assembling press kits, developing and updating content for the website, sending out new video releases to reviewers, submitting our films to conferences and film festivals, and proofreading print and web materials. On the administration side, interns will assist in all aspects of sales and distribution, and help with other front-office or finance operations. Desirable candidates will be curious, organized, self-directed, and able to multi-task. Strong writing and communication skills are essential. Familiarity with social media and basic HTML is a plus.
How to Apply for an Internship
Please apply via email by sending the following::
A cover letter. Please send a cover letter explaining your interest in the internship, how you learned of it, and its relevance to your academic work or vocational plans.
A resume
An unofficial transcript
Send Marketing/Administration internship applications to Emily Keup, Marketing Coordinator.
Applicants to the Marketing/Administration internship should, in addition to including the materials above, keep the following questions in mind. Does your cover letter:
Show evidence of being a strong writer?
Convey an understanding of MEF's mission, including mentioning which specific MEF films you've seen?
Express a keen interest for the work that MEF does?
Discuss why you are specifically interested in marketing?
Application Deadlines
For Fall 2023 semester: August 10th, 2023
For Spring 2024 semester: November 15th, 2023
For Summer 2024 semester: April 15th, 2024
Our Current Interns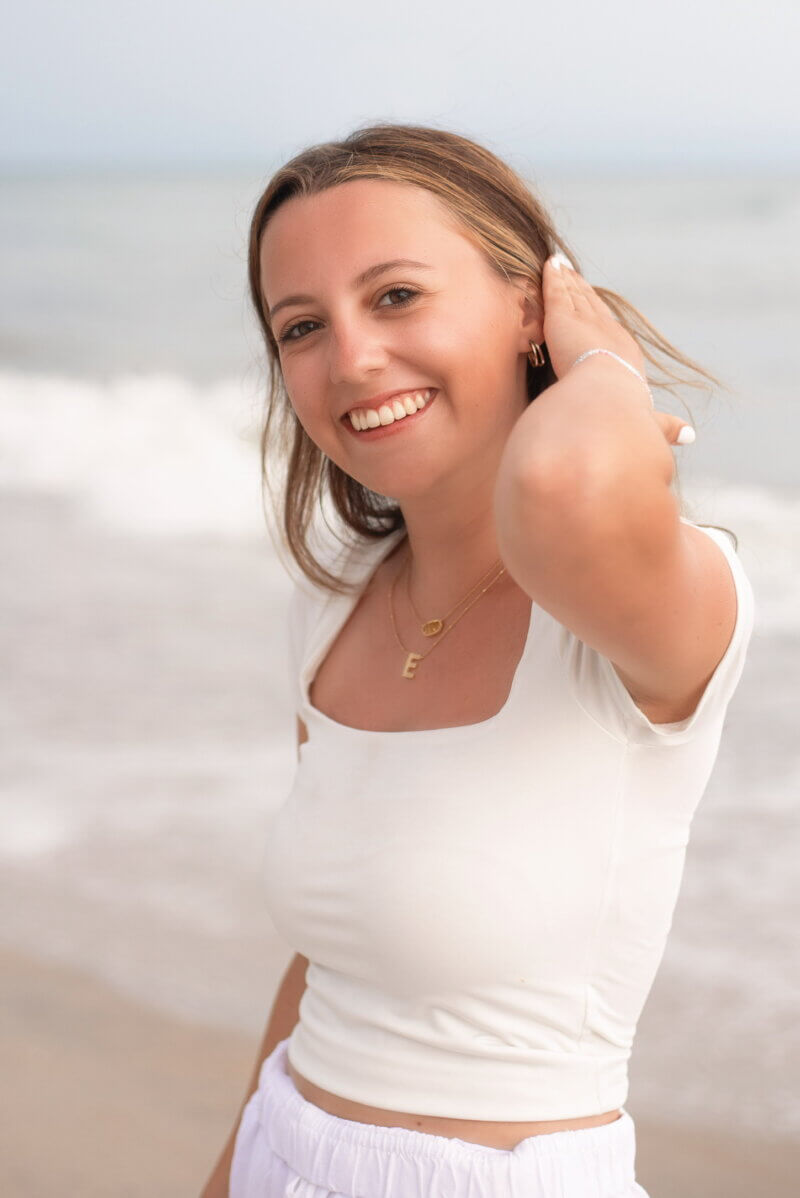 Ella Madrak  | UMass Amherst '25
What drew you to MEF?
I first heard about MEF through taking a course on gender and sexuality studies with Professor Sut Jhally, the executive director of MEF. I found the films featured during class exceptionally interesting and insightful, therefore leading me to do some research and see if there were any opportunities to intern. When I found out that there was an intern role in the marketing department, I was hesitant because of my Communications background, but it has been the perfect placement and I have gotten to learn more about the behind-the-scenes aspects of film production and marketing.
What's your favorite project you've worked on as an intern?
I would say working on The Burden blurb project. Although it is somewhat challenging, it's been very interesting to learn more about environmental studies and the different areas of law and legal studies. I've also enjoyed drafting up different social media posts, one of them promoting a film festival happening down in Florida. Overall, the internship has been a great chance to learn about many different aspects within the Communications field, whether it's writing, research or sitting in on a marketing meeting, it's been an amazing opportunity and I would highly recommend applying!
Why is media literacy important to you?
I have always had a strong interest in communications and media and I'm very interested in current events and always stay up to date with news stories and different press releases or posts. I truly believe that all of us need to develop our skills in media literacy and personally, I'm always striving to learn more about different platforms, styles of writing or new ways to stay up to date. Through interning at MEF I have been able to learn more about different ways to promote media literacy and have recently attended a panel for Media Literacy Week 202 featuring Dr. Katherine Sender, director of Beyond the Straight and Narrow, one of MEF's films.
Our Previous Interns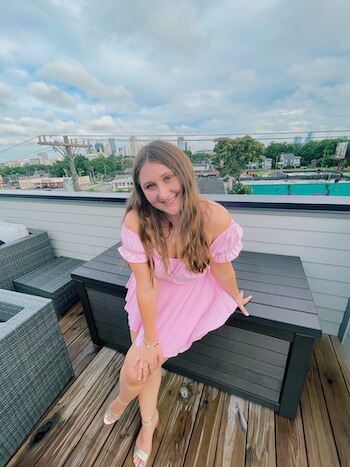 Kiley Smyth | UMass Amherst '23
What drew you to MEF?
My first formal introduction to MEF came this past Fall when I was taking a screenwriting class with Professor Norden. He ultimately encouraged me to apply for the marketing internship that they were offering for the Spring. After researching MEF and learning about the passionate drive behind their informative and inspiring work, I knew I wanted to apply. Being a Public Relations major and a Film Studies Certificate student, the internship program seemed like the perfect opportunity! As a long-time film lover and someone who enjoys being immersed in pop culture and current events, MEF felt like the best place to get a start in the professional world.
What's your favorite project you've worked on as an intern?
Recently, I've been working on submitting MEF films to film festivals. In doing this, I've gotten to learn more about how the film industry works, as well as getting more acquainted with the language and jargon used in the industry. I've also enjoyed creating social media posts for our social media channels!
Why is media literacy important to you?
In today's world where media is almost constantly accessible to us, media literacy is growing to be increasingly important. As media gains power over the people, I believe it's a right for audiences to be able to assess and understand the materials they are consuming. I feel inspired to be working with an organization like MEF that wields media literacy as an empowering tool for their audiences.
Joba Ogun, UNC'24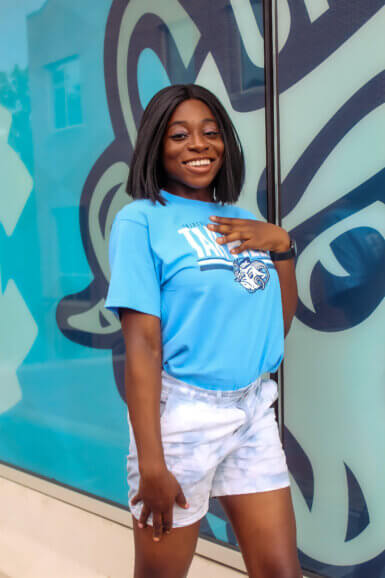 What drew you to MEF?:
What drew me to MEF is my love for watching documentaries. I always liked watching CNN documentaries and I was enthralled with the storylines; the depth behind the process of piecing things together to create emotional aspect for audiences. So when I found out about this opportunity, I decided to apply to not only get experience, but get a first glimpse of the diverse storytelling.
Why is media literacy important to you?
Media literacy is important because in today's age, media is teaching the new generation, whether we like or not. It's important for creatives to continue to make sure that what is produced continues to educate as well as show authenticity.
Favorite Projects 
Blog Articles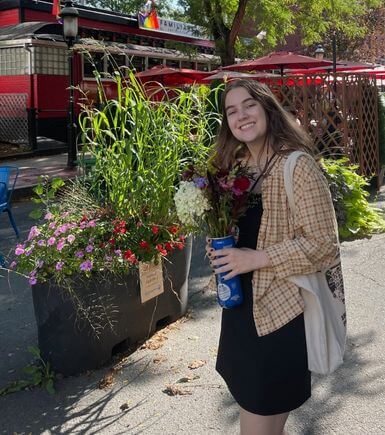 Devyn Moore | Smith College '24
What drew you to MEF?
I first heard about MEF in one of my Study of Women and Gender classes when we watched a few of their documentaries and I was pleased to learn that it was so close to campus. After reading about MEF's mission I knew that I wanted to get involved with their work.   I double major in Film and Media Studies and American Studies so I'm very interested in finding ways in which film can be used as a tool for education and social change.
What's your favorite project you've worked on as an intern?
I've really enjoyed getting to be apart of the rollout of new films.  It's been interesting getting to see a side of the industry that isn't usually seen by audiences.  This has entailed things such as submitting to film festivals and contacting scholars for blurbs.
Why is media literacy important to you?
Because of its enthralling and engaging nature, media is an extremely powerful tool that can be used for both good and evil.  It's easy to get swept up in visuals and music so it's crucial that we as viewers maintain awareness about the things that we are consuming and messages we are being told whether consciously or not.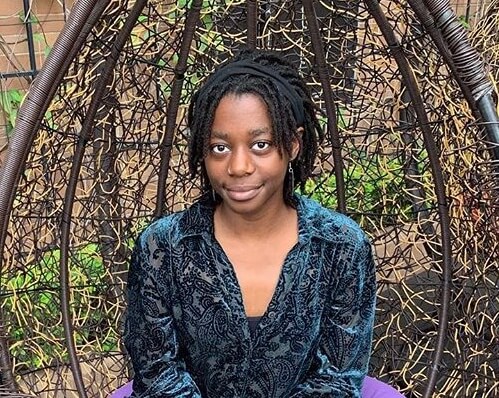 Kayara Hardnett-Barnes | Smith College '23
What drew you to MEF?
As a Film & Media Studies and Sociology double major, I have always thought of film—documentary in particular— as a great mode to investigate how the social world around us works. MEF creates and distributes films that do just that, and I knew that I wanted to intern with them as soon as I saw some of the work they were doing in their films on Kanopy. 
What's your favorite project you've worked on as an intern?
I have really enjoyed writing and designing social media posts for the upcoming release Theaters of War. Writing twitter posts in particular has really strengthened my ability to be concise and efficient in my writing. 
Why is media literacy important to you?
Media at the present moment is not a passive medium. Messages are constantly being sent to us in the television, film, and advertising we are consuming. It is only becoming more and more imperative that the public is aware of these messages and has the tools to decode them in informed ways. I feel really lucky to be a part of an organization that is doing its part to help raise more media awareness.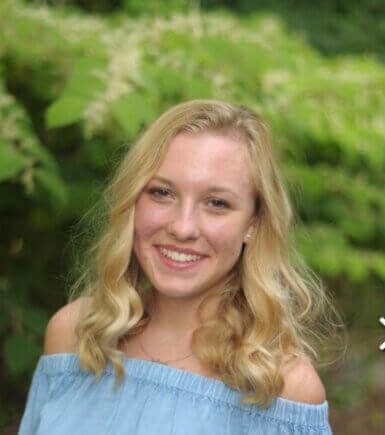 Hannah Korwan | UMass Amherst '24
What drew you to MEF?
I wanted to intern at MEF because I was interested in working with a non-profit. I like that MEF is in the business of film production because that is an industry I never thought I would be able to learn more about.
What's your favorite project you've worked on as an intern?
I have loved working on building landing pages for the different MEF films. It has been really great to learn how to build web pages and think about how people will respond to the different pages' appearances.
Why is media literacy important to you?
Understanding how powerful media is is becoming more and more crucial in our world. Realizing how we take in media and learning how to control media to impact people differently is a skill that I think everyone will need to have moving forward.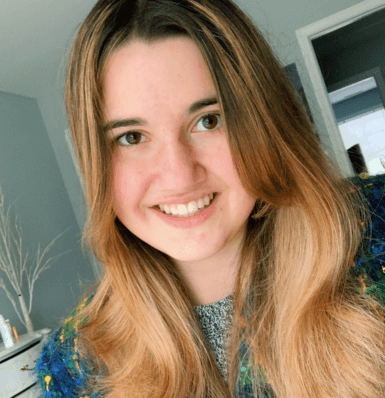 Leah Demers | UMass Amherst '23
What drew you to MEF?
As someone who is deeply passionate about film and communication, MEF harmoniously combines both of those interests in each of their projects. I wanted to collaborate with an organization that celebrates diversity and democracy while advocating for critical thinking and media literacy in the modern world.
What's your favorite project you've worked on as an intern?
I have really enjoyed reaching out to scholars, authors, and artists for quotes of endorsement regarding upcoming MEF films. Interacting with various individuals and seeing their reactions to the films illustrates the profound impact of our projects.
Why is media literacy important to you?
Whether we are conscious of it or not, we have been constantly consuming various forms of media from a very early age. Media literacy gives us the capacity to analyze the content we are consuming and allows us to understand the effect it can have on our own individual viewpoint of the world.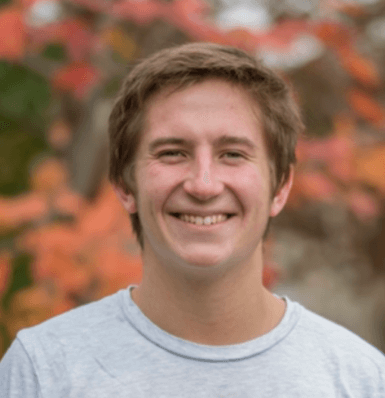 Patrick LaBelle | UMass Amherst '22
What drew you to MEF?
I was drawn to MEF after watching many of their films through my university's Kanopy subscription. I love how the organization is able to make important social topics into entertaining and thought-provoking pieces of media.
What's your favorite project you've worked on as an intern?
The project I've most enjoyed as an intern has been generating leads to provide quotes of endorsements for exciting new releases. I've always wondered how those catchy blurbs end up on book covers/DVDs/etc, but now I know how the magic really happens.
Why is media literacy important to you?
We live in a day and age where more information is at our fingertips than ever before in human history- which is great for anyone who loves to learn. However, media literacy is the key to being able to think critically and analyze the sources of information you are consuming from. After spending the last several years studying communication and the mass media system; I am convinced that there is a lot more than meets the eye when talking about media's role in the world. I think it's crucial that people pay attention to the media they consume just as they would their food. Reality TV and sensationalistic news debates can be fun "guilty pleasures" but it might just be the media equivalent of McDonald's while films like the one's MEF produces are what I would consider eating clean!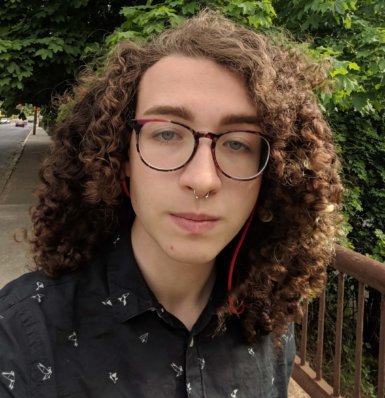 Dutch Clark | Hampshire College '20
What drew you to MEF?
Majoring in media studies, I had seen MEF films in a ton of my courses. I do media production as well as analysis, so I found the way MEF presents scholarly research in accessible and engaging ways was really exciting. When my academic advisor told me they had an internship, I knew I had to apply.
What's your favorite project you've worked on as an intern?
Definitely the quotes of endorsement. Researching and reaching out to academics who might want to review films has been such a great opportunity. I've been able to get a wide survey of the contemporary scholarly work in my fields of interest, while also developing my skills in professional communication.
Why is media literacy important to you?
With how many of our interactions and perception of the world come through social media, tv, and film, I think everyone could benefit from an understanding of how those texts communicate meaning. I think it's vital that organizations like MEF produce work that makes media theory accessible to people outside of academia.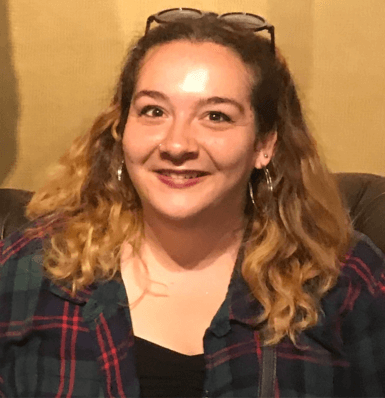 Gabby Rodriguez | UMass Amherst '21
What drew you to MEF?
In the fall semester of my junior year, I took a Communication class with Professor Sut Jhally. This class focused on race and representation, with a unit about mass incarceration and the prison industrial complex. Of all the classes I've taken at UMass, this one stuck with me the most. This was in large part due to the MEF films we watched in class or for homework. I knew I wanted to be a part of something that made such a change in the way I see the world.
What's your favorite project you've worked on as an intern?
I really enjoyed working on discussion guide landing pages for several of our films. The work itself was fairly simple but required a lot of attention to detail. I felt I was also able to express myself creatively with this project, which is something I really value. It was very rewarding to see my contribution utilized not only by the MEF team but by people interested in the organization and its work.
Why is media literacy important to you?
Media literacy is important to me because I strongly believe that people need to actively analyze and be conscious about what media they are consuming. Watching MEF both in my own time and in school has given me the ability to really stop and think about what I'm seeing, what it means, and why it is important.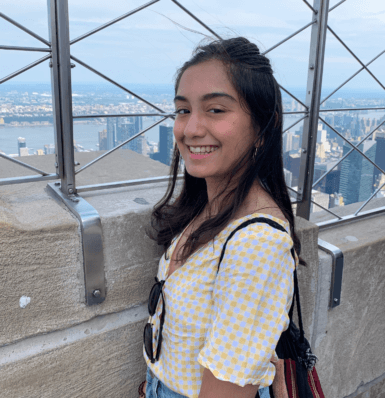 Venna Mohan | UMass Amherst '20
What drew you to MEF?
I had seen a few MEF films for class and was drawn to the kinds of documentaries I watched. After some research, I found out that MEF was a nonprofit educational film company. I have always wanted to work in nonprofit spaces and I am also passionate about social justice and filmmaking. Due to all of these reasons, I decided to apply for the marking internship at MEF.
What's your favorite project you've worked on as an intern?
My favorite project I worked on as an MEF intern would be creating social posts based on clips from Broken Trust and Man Card. I really enjoyed watching those clips because I learned a lot from them. Then, I also enjoyed the creative process of figuring out which quotes were important and how to summarize the quote in a way that would be appealing in a social post format. I also really enjoyed creating images in Canva for different events.
Why is media literacy important to you?
Media literacy is important for me because the internet is the way most people get information today. Although this is great because the internet has a wealth of incredible information, it is also the source of much misinformation. Having the ability to navigate this maze and find knowledge that is reliable will only become more important in an increasingly global world.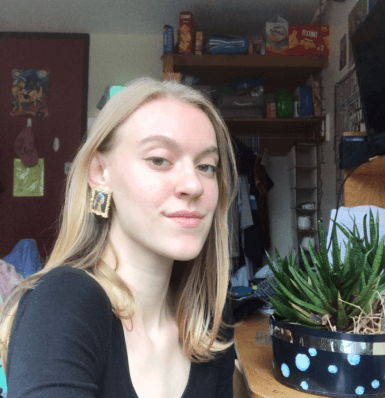 Makena Rasmussen | Hampshire College '20
What drew you to MEF?
I saw my first MEF film in 7th grade and haven't stopped thinking critically about media ever since. In college, I was shown an MEF film again in my intro to media studies class and knew then that I definitely wanted to intern here.
What's your favorite project you've worked on as an intern?
Learning to write and edit social media posts has definitely helped me to become a clear, more concise communicator. I love how content creation incorporates analytics and data but also my own creativity as a writer.
Why is media literacy important to you?
I know that being exposed to media literacy forever changed the way I saw and interpreted media. It made me think critically about the way I see the world. I want to share that with more people and I think it's especially important for kids and teenagers to learn about media literacy when social media is so prevalent in our lives.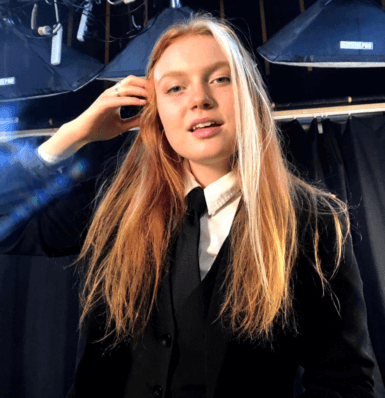 Elizabeth Green | Hampshire College '20
What drew you to MEF?
I was initially drawn to MEF because of the foundation's commitment to making academic language and concepts and accessible to a wider audience. These values align with my own as a filmmaker who is also working to fore-front a conscious consumption of media.
What's your favorite project you've worked on as an intern?
I have really enjoyed crafting custom graphics and designs for social media engagement and outreach. Projects like making DVD mockups and announcements for social media have really allowed me to hone my photoshop skills.
Why is media literacy important to you?
Having a good foundation of media literacy can also help stop the spread of fake news and promote a conscious consumption of media. Everybody deserves access to knowledge and resources that have for too long been entrenched in privilege and academia.