Don't miss out! Soul Food Junkies returns to PBS this Saturday at 8PM EST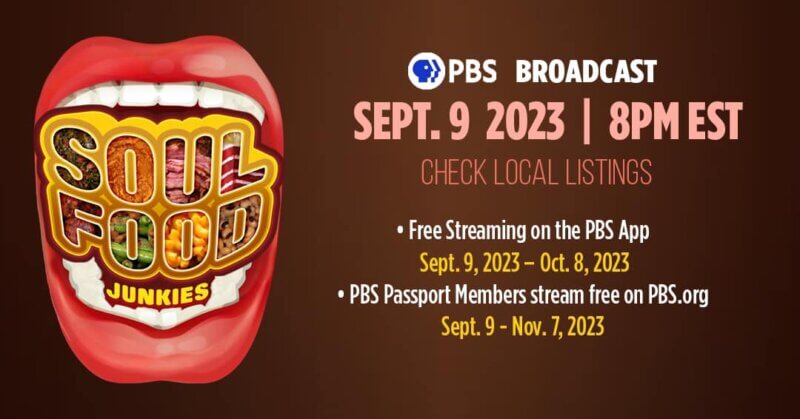 If you missed award-winning filmmaker Byron Hurt's acclaimed documentary Soul Food Junkies on PBS the first time around, this weekend you'll get another chance to check it out! The film, which first premiered on PBS's Emmy Award-winning series Independent Lens, is returning to the national airwaves this Saturday night at 8 PM EST as part of PBS's Saturday Playlist.
Called "an instant classic" by the New York Daily News, a "very smart film" by NPR, and "important and timely" by Colorlines, Soul Food Junkies offers a deeply personal exploration of the soul food tradition, its relevance to black cultural identity, and its continuing popularity despite known health concerns. The result is an absorbing, challenging, and ultimately inspiring look at the economics and cultural politics of food, and the complex interplay between identity, taste, and health.
Soul Food Junkies will also stream on the PBS app and on PBS.org through November 7, 2023.
If you're an educator looking to use Soul Food Junkies in your classes, you can stream it on Kanopy through university and public libraries. It's also available from MEF in multiple formats, including DVD. Click here to see if your university subscribes to Kanopy.
MORE FILMS BY BYRON HURT
NEW RELEASE! Award-winning filmmaker Byron Hurt's critically acclaimed new documentary HAZING takes a deeply personal look inside the culture, tradition, and secrecy of hazing rituals in fraternities and sororities, sports teams, marching bands, the military, and beyond. Drawing on a range of voices, the film provides a nuanced and empathetic portrait of a culture that provides a sense of belonging even as it too often leads to violence, sexual degradation, binge drinking, institutional coverups, and debased notions of manhood. An essential resource for classes and campus programming.
Hip-Hop: Beyond Beats & Rhymes provides a riveting examination of manhood, sexism, and homophobia in hip-hop culture. Director Byron Hurt, former star college quarterback, longtime hip-hop fan, and gender violence prevention educator, conceived the documentary as a "loving critique" of a number of disturbing trends in the world of rap music. He pays tribute to hip-hop while challenging the rap music industry to take responsibility for glamorizing destructive, deeply conservative stereotypes of manhood. Critically acclaimed for its fearless engagement with issues of race, gender violence, and the corporate exploitation of youth culture.
Award-winning filmmaker Byron Hurt explores what it means to be a black man in America. Traveling to more than fifteen cities and towns across the country, Hurt gathers reflections on black masculinity from men and women of a variety of socioeconomic backgrounds and a host of leading scholars and cultural critics. What results is an engaging and honest dialogue about race, gender, and identity in America. Features bell hooks, Michael Eric Dyson, John Henrick Clarke, Kevin Powell, Andrew Young, Dr. Alvin Poussaint, MC Hammer, Jackson Katz, and many others.