NOW STREAMING ON KANOPY: Watch the acclaimed doc "The Burden" to see why Kevin McCarthy blaming the Hamas attack on Biden's climate policy is such utter nonsense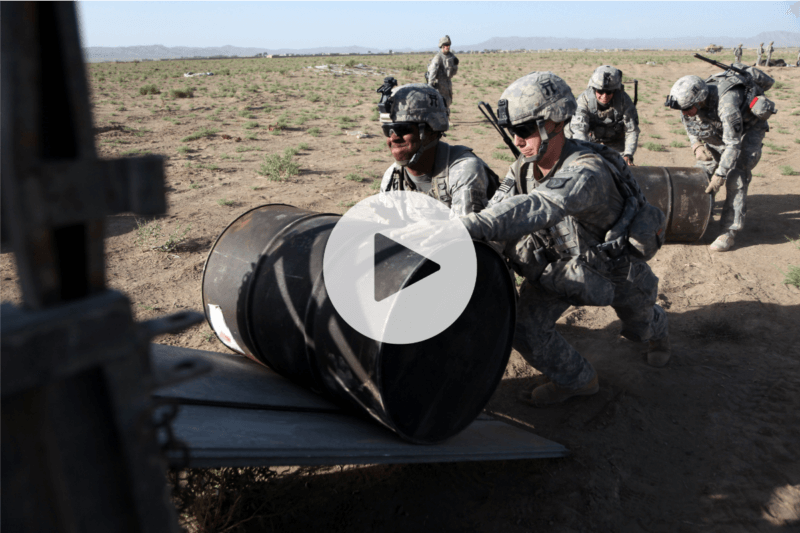 In the immediate wake of Hamas's horrifying Oct. 7 massacre of Israeli civilians, former Speaker of the House Kevin McCarthy wasted no time blaming the Biden administration for the attacks. Not because of Biden's failure to confront the escalating brutality of Israel's illegal 56-year occupation of Palestinian land, but because the president had once described climate change as a major national security threat.
"President Biden has said previously that he believes the number one threat America is facing is climate change. That is not true," McCarthy told reporters just two days after the attack, going on to list terrorism and border security as far greater threats. "Rather [than] focus on his Green New Deal, he should focus on protecting the American people."¹
It's a line we've been hearing from tough-talking conservatives for years – that efforts to curb fossil fuel consumption and combat climate change amount to nothing but "woke" virtue-signaling from naive left-wing extremists like Greta Thunberg who know nothing about national security and are weakening our country. What this contorted logic leaves out is that for years the U.S. military itself has been trying to warn anyone who will listen that America's addiction to fossil fuels – and the warming of the planet – pose grave and potentially catastrophic threats to U.S. national security, global stability, and our men and women in uniform.
If you're looking for some background on this mostly hidden part of the story, don't miss filmmaker Roger Sorkin's powerful short documentary The Burden: Fossil Fuel, the Military & National Security, which takes an eye-opening look at how the U.S. military has become a leader in the fight to end America's dependence on fossil fuels and combat climate change.
The Burden is now available to stream through most university and public libraries on Kanopy. Click here to see if your university subscribes to Kanopy.
The Burden tells the story of those within the military and across the political spectrum who advocate for breaking America's addiction to fossil fuels as essential to enhancing national security, protecting the planet, and reducing risks to U.S. service members. Featuring high-level active duty and retired military leaders, elected officials, environmental experts, and scholars, The Burden is an excellent resource for educators who explore environmental issues, energy policy, and U.S. foreign policy, and for activists trying to raise awareness and build new coalitions to break America's reliance on fossil fuels.
Sorkin also directed the MEF-produced film Joystick Warriors: Video Games, Violence & the Culture of Militarism (2013), a powerful look at the social and political fallout from hyper-militarized video games. As relevant today as ever, Joystick Warriors is available now on Kanopy, DVD, and other formats. LEARN MORE
PRAISE FOR THE BURDEN
"The Burden makes a compelling case about the importance of energy security. Dependence on fossil fuels is not just an environmental concern: it's a matter of national security. That's why the military invests in renewable and efficient energy, and why the nation should invest in a clean energy future."
— Sharon Burke, Former Assistant Secretary of Defense
"Beyond the Straight and Narrow does an excellent job of exploring how LGBTQ representation in [a] complex and ever-changing world has often shifted for the better, and how it is at once empowering and yet still so fragile across multiple media domains."
— Yasmin Nair | Writer, Activist, Academic, and co-founder of the radical queer editorial collective Against Equality
"Highly Recommended. Sorkin's film breaks new ground. It is a cost-benefit analysis of US military dependency on fossil fuels, a consequence of the general US dependence on these fuels. [A] well-made, very watchable documentary … of interest to anyone interested in national security."
— Educational Media Reviews Online
"An outstanding and enormously important film that breaks through the partisan rhetoric that has stymied long overdue efforts to address the compelling issue of climate change. The Burden gives voice to our military leaders who make clear how unnecessary reliance on fossil fuels literally places at risk and costs the lives of our troops. A film every American who cares about supporting our troops and safeguarding national security should see."
— Richard Lazarus | Charles Stebbins Fairchild Professor of Law at Harvard Law School
"The Burden provides an important insight into the way fossil fuels hinder the military's ability to protect the nation and achieve their missions. Use of fossil fuels can threaten the supply lines of our military, but also leads to increases in the number of threats they will need to defend against. The Burden is an important call to action."
— Destenie Nock | Assistant Professor of Civil and Environmental Engineering at Carnegie Mellon University
"The Burden opens doors to meaningful discussions about the military's reliance on fossil fuels and vividly illuminates how oil dependence is increasingly a national security concern."
– Stephanie Kline, USMC veteran, Environmental Defense Fund military energy analyst