Use this Film to Counter Conspiracy Theories, Fear & Hate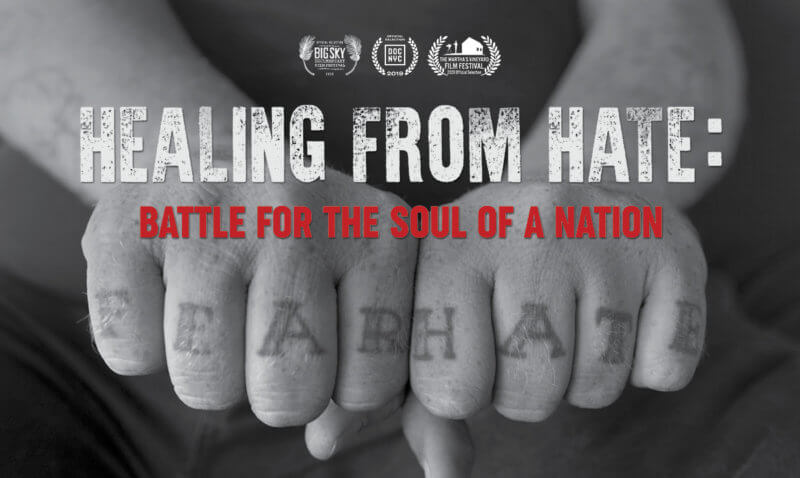 As civil rights groups continue to warn that white supremacists and neo-Nazis are using the coronavirus to embolden their recruitment efforts around the world, educators and community leaders have a special opportunity to expose and counter the hate-filled conspiracy theories these groups are using to prey on disaffected young people.
That's why we can't say enough about our forthcoming release Healing From Hate: Battle for the Soul of a Nation.
Directed by award-winning filmmaker Peter Hutchison (Requiem for the American Dream), Healing From Hate takes us inside the minds of a group of former Skinheads and neo-Nazis who are now working on the front lines to de-radicalize violent extremists and transform racist and anti-Semitic attitudes. After playing to packed houses and garnering widespread praise at the DOC NYC and Big Sky film festivals, this film now has the potential to engage students in critical conversations about the rise of right-wing extremism, nativism, and racial scapegoating.
At a time when hate groups are actively weaponizing the Covid crisis to spread fear and grow their movement, Healing From Hate is an absolutely essential educational tool.
Pre-order an institutional copy of Healing From Hate now at 20%. Just enter the code SPRING2020 at checkout!
"I was moved somewhere beyond words. Healing from Hate is required viewing for anyone who truly wants to understand the hatred that is running rampant in America and the world."
"A hopeful expression of how hate does not need to be the end of the road."
"A powerful and risky documentary that looks at racism in America … and how to enact change."