"This film could not come at a better time."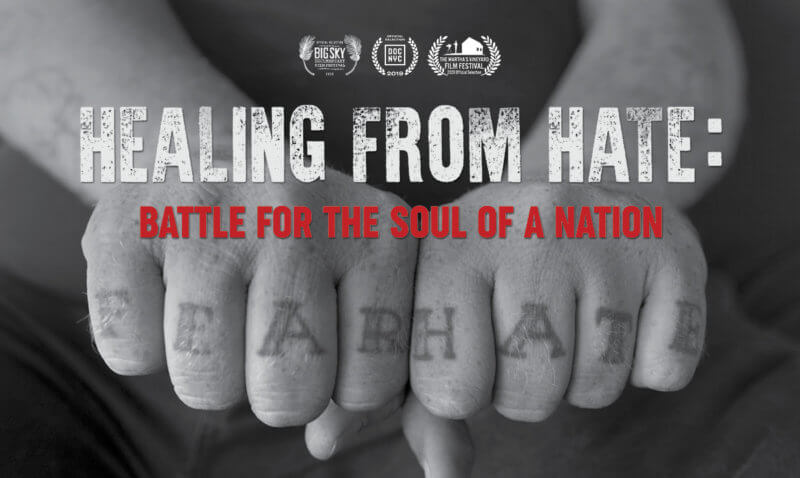 "This film could not come at a better time."
— Deadline
There's no longer any doubt that ideologies of hate, right-wing terror, and other forms of racist violence are on the rise in the United States.
Last month, the Department of Homeland Security reported that white supremacists and other far-right extremists "remain the most persistent and lethal threat in the Homeland,"¹  while an FBI report released just yesterday found that hate crimes in the U.S. against Blacks, Jews, and Latinx people "rose to their highest level in more than a decade in 2019."²
But while the problem is clear, a big question remains: How do we curb the rising tide of hate that's feeding this escalation of violence?
For an inside look at a group of former white supremacists who think they have an answer, be sure to check out the acclaimed documentary Healing From Hate: Battle for the Soul of a Nation.
Directed by award-winning filmmaker Peter Hutchison (Requiem for the American Dream), Healing From Hate tells the inspiring story of a remarkable group of former skinheads and neo-Nazis who turned their backs on racial scapegoating and are now working on the front lines to de-radicalize violent extremists and transform racist attitudes.
Healing From Hate is now available via streaming, on DVD, and for virtual screenings.
"I was moved somewhere beyond words. Healing from Hate is required viewing for anyone who truly wants to understand the hatred that is running rampant in America and the world."
"A no-holds-barred, raw masterpiece defining the causes and solutions for America's ugliest disease: racism."
— Daryl Davis | Author, Klan-destine Relationships: A Black Man's Odyssey in the Ku Klux Klan
"Makes visible both the urgency of the threat of domestic extremists and the healing power of empathy to overcome the disease of hatred."
— Beverly Tatum | Author, Why Are All the Black Kids Sitting Together in the Cafeteria?
"Promises to spark the type of collective soul searching our nation desperately needs in these divisive times."
— Adam Hodges | Author, When Words Trump Politics: Resisting a Hostile Regime of Language
"Goes beyond a shallow understanding of white supremacists as 'bad' people to explore the circumstances that draw them into these ideologies. A very useful teaching resource."
— Dr. Raka Shome | Professor of Communication, Villanova University
"A thought-provoking documentary with a powerful message on how extremists can change."
"Healing From Hate deserves to be — needs to be — seen by a very large audience."
"Equal parts chilling and hopeful, Healing From Hate offers a rare glimpse into the psyche of a faction of the world many chose to look away from."
"A portrait of hate in contemporary America [that] is as timely and essential as it is alarming … especially with the boiling pot of the upcoming presidential elections."