Byron Hurt's acclaimed new film "Hazing" is having an impact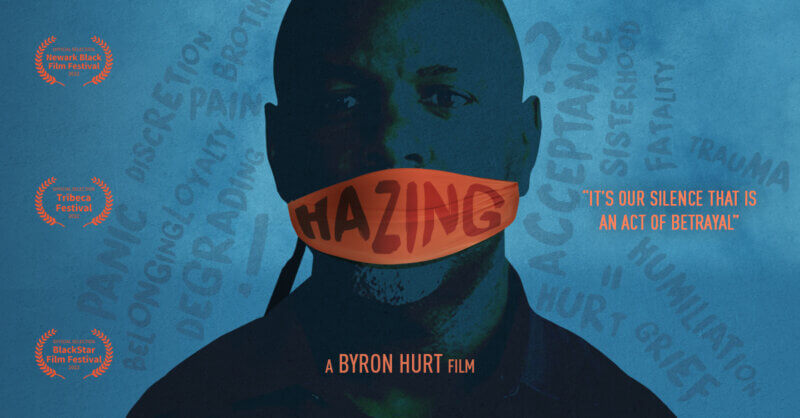 Award-winning filmmaker Byron Hurt's acclaimed new documentary HAZING has been gaining attention and earning praise in national media and on college campuses. If you're an educator, activist, or community organizer interested in using HAZING in your own work, you can order the film now for educational use on campuses and in classrooms, for community screenings, or to add to your library's permanent collection.

Here's just a sampling of some of the recent press coverage of the film, which is screening in DC at the Double Exposure Film Festival this Saturday (buy tix here) and is also now streaming for free on the PBS Video App:
HAZING offers a deeply personal look inside the culture, tradition, and secrecy surrounding hazing rituals in fraternities and sororities, sports teams, marching bands, the military and beyond.

In the film, Hurt, who belongs to a fraternity himself, talks to members of Black and historically white Greek-letter organizations and other groups that practice hazing, and gives voice to survivors of severe initiation rituals and the families of those who lost their lives. Expertly weaving these first-hand testimonies with insights from violence-prevention experts, the film provides a nuanced and empathetic portrait of a culture that can confer a sense of belonging even as it too often leads to violence, sexual degradation, binge drinking, institutional coverups, and debased notions of manhood. The result is an extraordinary teaching tool for educators and advocates working to reform hazing culture and combat violence – especially those interested in intersectional, bystander-based violence prevention approaches.
"Byron Hurt is one of the most courageous filmmakers of our time, and his documentary 
HAZING 
should be required viewing by every high school and college student in the country. Violence within our fraternities, sororities, bands, and sports teams is not inevitable. But it takes a collective effort from organizations and members to solve the problem, and 
HAZING
 is the call to action we've needed to progress toward a solution."
— Lawrence Ross | Author, The 
Divine Nine: The History of African American Fraternities and Sororities
"Hurt is uniquely empathetic to those who fall victim to groupthink and extends this grace to the viewer. Taking a stark look at the psychological, societal, and historical components of hazing, Hurt sparks a captivating conversation around the anxieties and expectations of belonging—and what will be sacrificed to achieve it."
— Shakira Refos | Tribeca Festival
"HAZING isn't simply about the profound harm that is perpetrated on victims and their loved ones. It's also about the perpetrators, what motivates them, and bystanders, their indifference. It's about the leaders who fail to offer a paradigm shift—either because they don't know how or don't have the will to do so—and the members who are content with such leadership. It's about more than one fateful night, but rather about a systemic culture that spans space and time. Hazing offers this rich insight but also a glimmer of hope that change is possible."
— Gregory S. Parks | Professor of Law, Wake Forest University School of Law
"HAZING is a powerful tool for Greek chapters, teams, and other organizations to frame why hazing cultures must change and how to begin those difficult conversations. Byron Hurt courageously shares his experiences and takes the viewer on a harrowing journey with hazing survivors and grieving families to examine the true cost of these brutal rituals. This important documentary illustrates the enduring impact and emotional scars carried by those who are hazed, and those who inflict hazing, long after physical damage heals."
— Susie Bruce | Director, Gordie Center, University of Virginia
"Powerful. Truthful. Challenging. Honest. Real. … Byron Hurt compels the legal system, education leaders, and fraternal organizations to stop hiding and take real action to break the code of silence so that another family doesn't lose their loved one as a victim of hazing."
— Dr. Jason L Meriwether | Hazing Prevention Scholar & University Vice President, Alpha Phi Alpha Fraternity, Inc.
"As both a sociologist and fraternity member, I recognize the systemic causes, practices, and ideologies portrayed in Byron Hurt's film. HAZING directly confronts the hypocrisy of Greek-letter organizations that proclaim virtue, yet practice violence.  Watch HAZING to understand why one or the other will become either our hallmark or our headstone."
— Dr. Matthew W. Hughey | Professor of Sociology at the University of Connecticut and co-author of A Pledge with Purpose: Black Sororities and Fraternities and the Fight for Equality
"A powerful and harrowing film … not to be missed."
— GeekVibesNation.com