Thank you for choosing to contribute to MEF's Community Room.
From 2003 to 2014, the Media Education Foundation made its large meeting space at the old Firestation available to local non-profit groups to aid their work. The space closed in 2014 when the first floor of the building was sold. There is now an opportunity to reopen the room as a much needed, accessible, state-of-the-art meeting space in downtown Northampton. But it will only be possible if we can raise sufficient funds. Please consider donating (either one time or recurring).
MEF is a 501(c)(3) nonprofit organization and our federal tax ID number is 04-3124914. All donations are tax-deductible, except in cases where gifts or services are provided in exchange. Every gift is a major gift.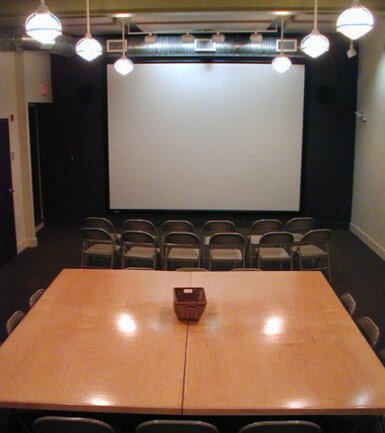 To make a donation to the community room, simply click on the link below. You will be able to enter the amount of your donation on the next page. The payment will display on your statement as PAYPAL *MEDIA EDUC.
Option 1: Make a donation online
Option 2: Make a donation by mail
Please make your check payable to Media Education Foundation and mail to:
Media Education Foundation
60 Masonic St.
Northampton, MA 01060
Attn: Community Room
Thank you very much! We deeply appreciate your support.