How One Woman's Defiance Changed the Boston Marathon, Challenged Sexism in Sports, and Galvanized the Women's Movement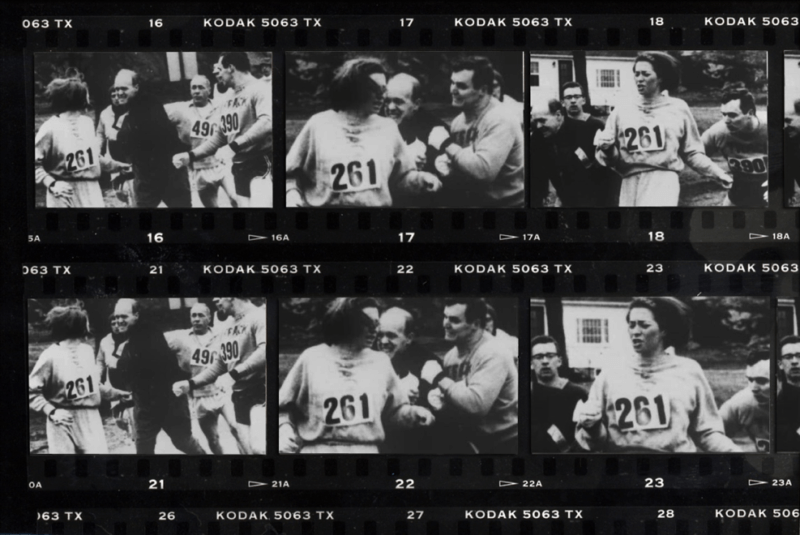 This morning, nearly half of the 30,000 runners who set off to conquer the Boston Marathon were women.
Up until 1967, there were none.
The reason? Lots of men were convinced that competitive running was totally unsuitable for women. As Pulitzer Prize-winning sportswriter Arthur Daley said about women runners in 1953: "There's nothing feminine or enchanting about a girl with beads of perspiration in her alabaster brow, the result of grotesque contortions in events totally unsuited to female architecture."
Then this happened. (Watch below.)
The story of how Kathrine Switzer overcame a mid-race assault by an outraged male race official to become the first woman to finish the Boston Marathon is just one of many inspiring tributes to activist athletes offered by acclaimed Nation magazine sports editor Dave Zirin in our bestselling video Not Just a Game: Power, Politics & American Sports.
In addition to Switzer, Zirin tells the stories of activist athletes like Billie Jean King, Jack Johnson, Jackie Robinson, and Muhammad Ali – women and men who used their status as cultural icons to call attention to gender inequality, sex discrimination, racial injustice, and militarism.
We urge you to screen Not Just a Game in your classes, for your sports teams, on your campus, and in your community as a new generation of activist athletes like Colin Kaepernick, Michael Bennett, Maya Moore, Breanna Stewart, and Serena Williams use their platform to push debates about racism, police violence, men's violence against women, patriotism, and nationalism to center stage.
LEARN MORE ABOUT NOT JUST A GAME
"Not Just a Game is by turns moving, maddening, touching, enlightening, hilarious, and sad. I cannot think of a better way to teach my students about such a wide array of issues than having them watch this film."
– Ellen R. Hansen, Ph.D. | Chair of Social Sciences, Emporia State University
"Be sure to watch this thrillingly provocative film before you see your next game if you finally want to know what sports is all about. Dave Zirin is wonderful, and the folks at MEF are a national resource. Not Just a Game is a powerful teaching tool."
– Robert Lipsyte | former NEW YORK TIMES sports writer