"I'll be showing this film in my classes for the rest of my life"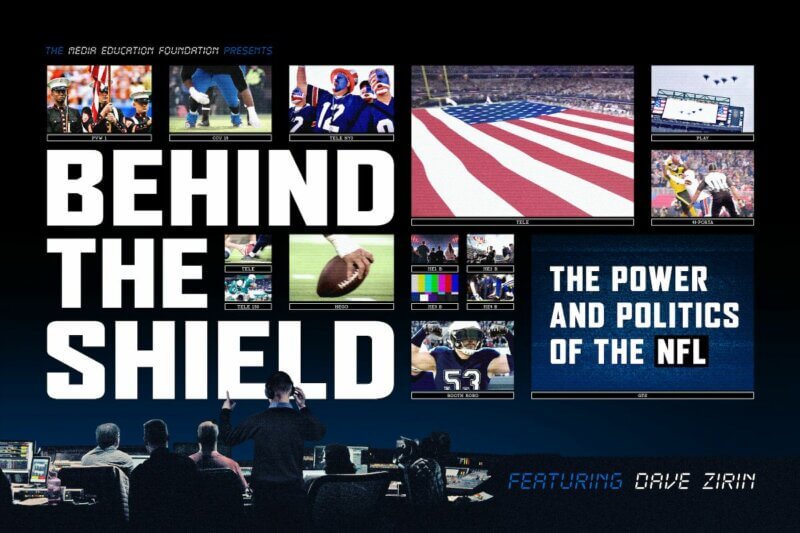 "I will be showing this film in my classes for the rest of my life."
— Robin D.G. Kelley, Professor and Chair of History, UCLA
Planning your fall classes and looking for a film to inspire your students to take popular culture seriously as a political and ideological force? Don't miss our new film Behind the Shield: The Power & Politics of the NFL, featuring acclaimed Nation magazine writer Dave Zirin.
Behind the Shield is less about sports, football, or even the National Football League, than about America itself. It's about how the NFL has emerged, in Zirin's words, as "the closest thing we have to a national language and a national religion" — a wildly popular, multibillion-dollar corporate leviathan that shapes dominant ideas around everything from race, gender, and commercial culture to U.S. militarism, war, and the meaning of patriotism.
Get Behind the Shield for your classes or for campus and community screenings now.
Below is just a sampling of what educators and journalists have been saying about Behind the Shield's value as a teaching tool and entry point into some of the most pressing political and cultural debates of our time.
PRAISE FOR BEHIND THE SHIELD 
"Behind the Shield is terrifying and brilliant. After watching it, I now believe that you cannot understand this country without understanding NFL football. I will be showing this film in my classes FOR THE REST OF MY LIFE."
— Robin D.G. Kelley, Professor and Chair of History, UCLA

"You may not care about football—but this riveting documentary about the NFL reminds us that we have a stake in understanding how powerful the NFL is in shaping our country, culture, and politics. If you care about the impact of sports on power, patriotism, race, manhood, and militarism, Behind the Shield is a must-watch."
—Katrina vanden Heuvel, Editorial Director & Publisher, The Nation

"Whether you love professional football or hate it, Behind the Shield is an indispensable contribution to the field of cultural studies and an invaluable educational resource. If you want your students to understand how the sports/entertainment industry – especially the NFL – shapes dominant ideology on matters of race, gender, sexuality, militarism, and so much more, this film is your new best friend."
— Jackson Katz, Ph.D., Author and creator of the award-winning Tough Guise video series

"Behind the Shield convincingly demonstrates that football is indeed the most American sport, then deftly deconstructs just what that Americanness implies. There is the brutality of racism, violence, militarism, and hypermasculinity, but also there is the courageous resistance and unyielding commitment of those who love America enough to, as James Baldwin wrote, 'insist on the right to criticize her perpetually.' If you're feeling ready for some football — watch this film. If you think you know the story of Colin Kaepernick — watch this film. If you think politics don't belong in sports — watch this film. Watch this film."
— Melissa Harris-Perry, The Maya Angelou Presidential Chair at Wake Forest University

"We watch NFL football games as fans, as we marvel at how nothing else magnetizes a comparable television audience. We engage in debates over whether players are politicizing the game by kneeling during the National Anthem. But what Dave Zirin dares show is the political and patriotic and violent and sometimes misogynist messages the games embrace. You may not agree with everything in this documentary. But it will compel you to ponder, deeply. A provocative, eye-opening documentary that upends conventional wisdom."
— Ken Auletta, The New Yorker

"Behind the Shield is about so much more than football – it is about us, and where we are as a nation, and what lies ahead. If you love football, watch this film. If you care about justice, watch this film!"
— Eddie S. Glaude Jr. | Head of African American Studies at Princeton University

"There's something about truth when it is told unfiltered, straight, void of chasers, direct, immune to power or fear. Behind the Shield tells large truths of the NFL (and America itself) in a collective and comprehensive manner that forces all of us to re-evaluate why we've allowed this League to become publicly synonymous with who we claim to be as a society."
— Scoop Jackson, Author of The Game Is Not A Game

"An extraordinary film about the history of our war-game. It shows brilliantly how football reflects our culture in the United States."
— Dave Meggyesy, former NFL player, author Out of Their League

"Sport is politics by other means, and nothing hammers this home with as much weapons-grade ferocity as the National Football League. Behind the Shield is an unflinching, engaging excavation of how the league's cultural and political values encourage toxic masculinity, promote dime-store patriotism, and ultimately reinforce the status quo. This is, quite simply, a must-see film."
—Jules Boykoff , Professor of Political Science, Pacific University and author of Power Games: A Political History of the Olympics

"Behind the Shield offers a compelling case study in how visual spectacles offer both reinforcement and resistance to political ideologies, and how politics is always inseparable from culture."
— Bill Yousman, Associate Professor, Department of Media and Performing Arts, Sacred Heart University

"Many millions of people, mostly in the United States, are big fans of American football. I cannot be counted among them. So, it is a tribute to Behind the Shield that this otherwise detached viewer was absorbed by a beautifully constructed and critically penetrating documentary. … A vivid work of social, cultural and political history, it is both a record of infamy and resource of hope. I recommend it to anyone seeking a deeper, critical understanding of the ideological uses and abuses of sport in the USA."
— David Rowe | Emeritus Professor of Cultural Research, Western Sydney University, Australia and author of Sport, Culture and the Media: The Unruly Trinity

"Behind the Shield is an exceptional exposé of why American football fans' and the NFL's demand that we shouldn't insert 'politics in sports' is itself so political: a vocal and visual assertion of power that is usually quiet and invisible. A must-watch."
—Soraya Chemaly, Author, Rage Becomes Her: The Power of Women's Anger