NEXT WEEK! Join Dave Zirin, Howard Bryant & MEF in Amherst, MA for premiere of "Behind the Shield"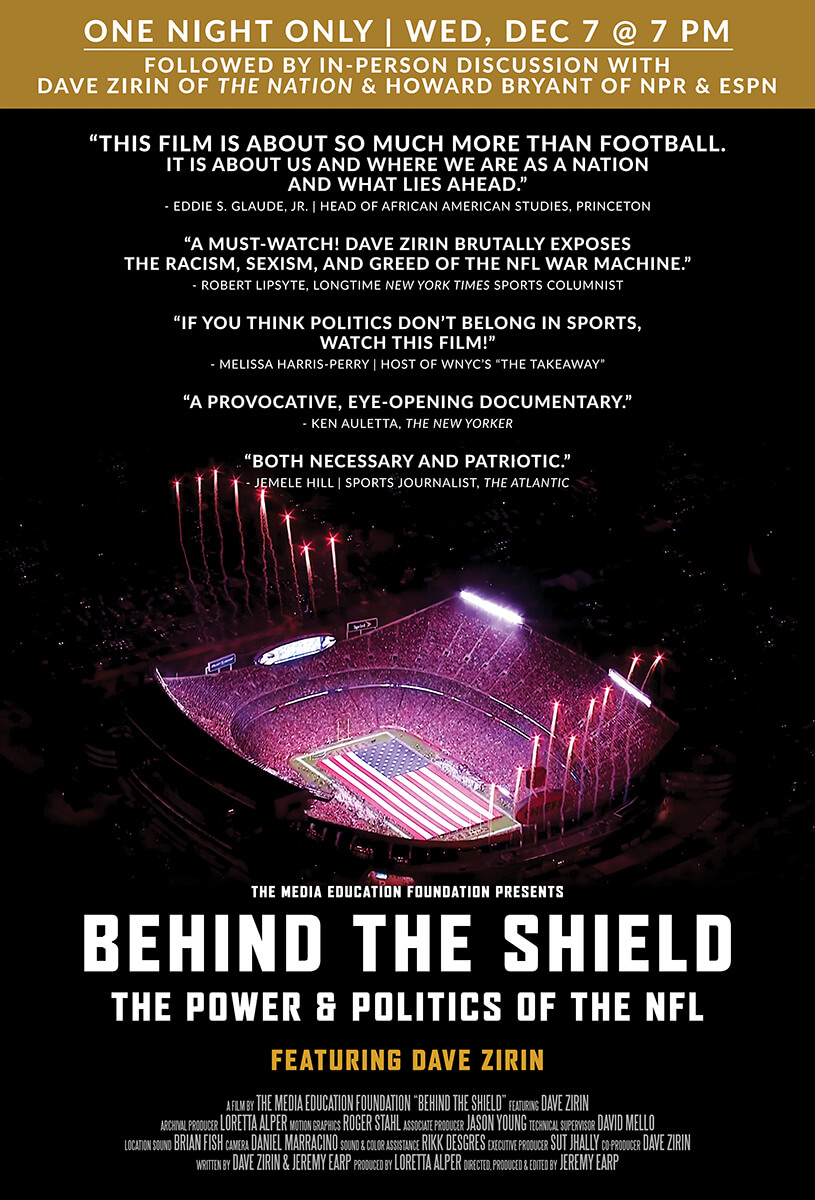 PREMIERE SCREENING OF BEHIND THE SHIELD
AMHERST CINEMA | WEDNESDAY, DEC 7 @ 7 PM
28 Amity St, Amherst, MA
FEATURING A POST-SCREENING DISCUSSION
w/ DAVE ZIRIN OF THE NATION
and
HOWARD BRYANT OF NPR & ESPN

Acclaimed Nation magazine writer Dave Zirin will appear in person at Amherst Cinema next week – on Wednesday, Dec. 7, at 7 p.m. – for the Massachusetts premiere of our new film Behind the Shield: The Power & Politics of the NFL.
The film, a collaboration between MEF and Zirin, explodes the myth that America's most popular and influential sports league was free of politics before Colin Kaepernick took a knee, showing how for decades the NFL has helped shape dominant ideas around nationalism, militarism, manhood, race, and corporate power.
Following the screening, Zirin will be joined on stage by award-winning author and journalist Howard Bryant of NPR and ESPN to discuss the film.
You can get tickets here through the Amherst Cinema box office. The event is free for Amherst Cinema members.
Dave Zirin, co-writer, co-producer, and narrator of Behind the Shield, is the sports editor at The Nation, a columnist for MSNBC.com, and the author of eleven books on the politics of sports, including A People's History of Sports in the United States and, most recently, The Kaepernick Effect: Taking a Knee, Changing the World. He has appeared on ESPN, CNN, MSNBC, NPR, Democracy Now! and in numerous documentary films, and has been an advisor to filmmakers ranging from Ken Burns to Ang Lee. His writing has been published in the New York Times, the Los Angeles Times, the Washington Post, and many other publications.
Howard Bryant is a senior writer for ESPN.com and ESPN The Magazine, appears regularly on ESPN programming, including SportsCenter and Outside the Lines, and has been the sports correspondent for NPR's Weekend Edition since 2006. He is the author of ten books, including the New York Times bestsellers Full Dissidence: Notes From an Uneven Playing Field and The Heritage: Black Athletes, A Divided America and the Politics of Patriotism. Previously, he worked at the Washington Post, the Boston Herald, the Bergen Record, the San Jose Mercury News, and the Oakland Tribune.
Praise for Behind the Shield 
"After watching Behind the Shield, I now believe you cannot understand this country without understanding NFL football. I will be showing this film in my classes FOR THE REST OF MY LIFE."
— Robin D.G. Kelley | Professor and Chair of History, UCLA

"You may not care about football—but this riveting documentary reminds us that we all have a stake in understanding how powerful the NFL is in shaping our country, culture, and politics."
— Katrina vanden Heuvel | Editorial Director & Publisher, The Nation

"A provocative, eye-opening documentary."
— Ken Auletta | The New Yorker"If you think politics don't belong in sports, watch this film."
— Melissa Harris-Perry | NPR's "The Takeaway"

"This film is about so much more than football. It is about us and where we are as a nation and what lies ahead."
— Eddie Glaude Jr. | Head of African American Studies at Princeton University

"A must-watch. Brutally exposes the racism, sexism, and greed of the NFL war machine."
— Robert Lipsyte | Longtime New York Times sports columnist

"Behind the Shield is both necessary and patriotic."
— Jemele Hill | The Atlantic

"Don't miss this grand documentary!"
— Cornel West | Author, Race Matters