What's Driving the Right's Newest Attack on Women's Reproductive Rights?
Last week's stunning decision by 25 white males in the Alabama Senate to outlaw virtually all abortions in the state didn't come out of nowhere. As leading feminist writer Jessica Valenti makes clear in our video based on her bestselling book The Purity Myth, a coalition of right-wing forces has been working for decades to stigmatize and control women's sexuality, roll back women's reproductive rights, and reassert traditional patriarchal gender roles.
As the right steps up its attack on women's autonomy and Roe v. Wade, we urge you to screen The Purity Myth in your classes and communities.
We also encourage you to screen our new film The Bystander Moment: Transforming Rape Culture at Its Roots, with acclaimed author and cultural critic Jackson Katz. Since its release, The Bystander Moment has been winning high praise for connecting the dots between patriarchal gender norms, the backlash against feminism, and the culture of silence that for too long has surrounded sexism, misogyny, and sexual abuse.
Check out what people have been saying about these two films below!
Praise for Jessica Valenti and The Purity Myth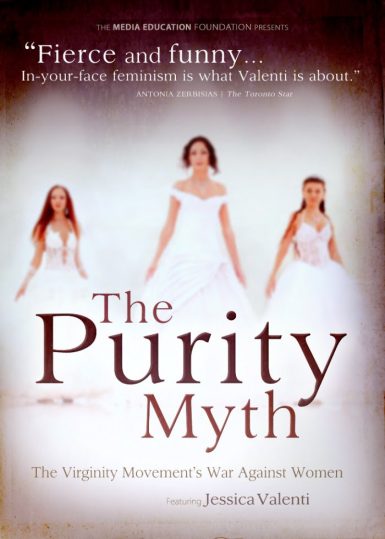 "The Purity Myth is a must-watch for anyone who cares about girls, women or the American education system. Jessica Valenti connects the dots between long-standing ideas about female virtue, conservative groups and politicians who benefit from marginalizing women, and the very real consequences that women and girls face when their social worth is tied to whether or not they've had sex. The film is complex and incisive, and Valenti's narration brings her signature thoughtfulness and humor to the topic. It should be required viewing for parents, educators and politicians — and for girls and boys as well."
— Jill Filipovic | Journalist and author of The H-Spot: The Feminist Pursuit of Happiness
"Given the current political climate and war on women, this film is incredibly timely. Although the students who viewed the film felt outraged and angry, they were also left with a sense of urgency to raise awareness on campus."
— Toby Simon | Director of Bryant University Women's Center
"The Purity Myth provides an important perspective on this current reactionary trend: the paradox that the dehumanization of young women that is facilitated through their hypersexualization in consumer culture is being reacted to not by changing that culture but rather depriving them of their right to healthy sexuality."
— Leslie Heywood | Editor of The Women's Movement Today: An Encyclopedia of Third-Wave Feminism
"The Purity Myth takes a critical look at women's sexuality and the push by anti-feminist Evangelical Christians and right-wing politicians to resurrect traditional gender roles and attitudes. A surefire discussion starter for women's studies groups and classes."
— Booklist
"A smart, must-see primer for students, young people, and citizens who are puzzled, and troubled, by the political and cultural currents that aim to strip females of their bodily autonomy and their rights to be recognized as individuals."
— Alesha E. Doan | Author of The Politics of Virginity: Abstinence in Sex Education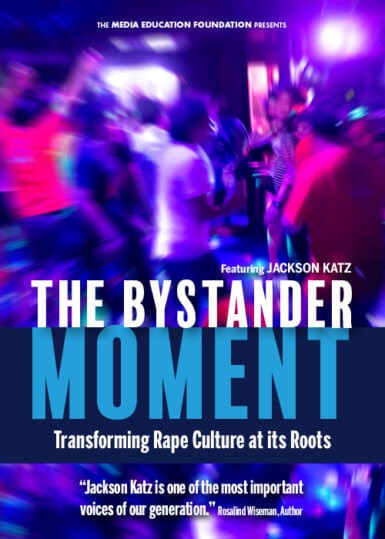 "The Bystander Moment is an eloquent, passionate, and accessible account of how to transform the culture that produces abusive behavior."
— Michael Flood, Ph.D. | Author of Engaging Men and Boys in Violence Prevention
"A great documentary film that builds on the momentum of the #MeToo movement and sheds light on what is needed to prevent gender-based violence."
— Alisha Somji, MPH | Associate Program Manager at the Prevention Institute
"I'm so thankful this movie exists. Katz delivers a convincing case for a small fix that could fundamentally change our society in more ways than we can imagine."
— Liz Plank | Journalist & Executive Producer, Divided States of Women
"An amazing video! True sexual violence prevention is not just one method, and this documentary gives a glimpse into why approaches should be layered."
— Krystal George, MPA, CHES | Interim Director of the Women's Center at Duke University
 "A terrific, timely, and necessary video … needs to be screened in classrooms and communities far and wide."
— Jean Kilbourne, Ed.D., creator of the award-winning Killing Us Softly video series
 "A must-see documentary. I've screened it in my class at Harvard Law, and intend to show it every semester moving forward!"
— Diane L. Rosenfeld, JD, LLM | Director, Gender Violence Program at Harvard Law School
"The Bystander Moment is perfect for classroom use. Another superb achievement by Jackson Katz!"
— James W. Messerschmidt | Author of Hegemonic Masculinity: Formulation, Reformulation, and Amplification