Acclaimed Film HAZING Premiered Nationally on PBS
Award-winning filmmaker Byron Hurt's powerful new documentary HAZING had its national broadcast premiere on PBS earlier this week and is now available to stream for free on PBS through December 11th.
Here's the description of HAZING from the Independent Lens website:

Hazing is a widespread, far-reaching practice fueled by tradition, secrecy, groupthink, power, and the desire to belong in fraternities and sororities on college campuses across the U.S. Filmmaker Byron Hurt embarks on a deeply personal journey to understand the underground rituals of hazing, revealing the abusive lengths college students will go to fit in.

Be sure to watch!

If you're an educator, activist, or community organizer interested in using HAZING in your own work, you can order the film now for educational use on campuses and in classrooms, for community screenings, or to add to your library's permanent collection.
Meet the Filmmaker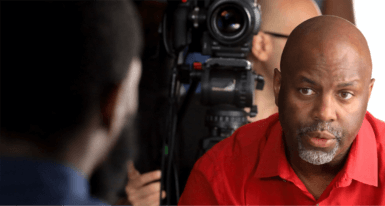 Byron Hurt is an award-winning filmmaker, activist, lecturer, and leader in the gender-violence prevention field. His highly acclaimed documentary Hip-Hop: Beyond Beats & Rhymes premiered at the Sundance Film Festival and was broadcast nationally on the PBS documentary series Independent Lens. His film Soul Food Junkies, which also aired nationally on PBS, won best documentary at several film festivals. In 2010, he hosted the Emmy-nominated television show Reel Works with Byron Hurt.  In addition, Byron has over two decades of experience working with NCAA athletes, members of the U.S. military, fraternities, and everyday men and women throughout the world on bystander-based, gender-violence prevention. His lectures on the topic focus on how hypermasculinity in popular culture normalizes male violence; how commonalities between race, class, and gender link oppression; how homophobia and transphobia make LGBT communities vulnerable to male violence; how positive male leadership and bystander intervention can end gender-based violence; and how to use cis male privilege to ally with women and girls to redefine masculinity and promote healthy relationships. Byron also serves as an adjunct professor at Columbia University, was a filmmaker-in-residence at American University, and has been featured in leading media outlets from The New York Times, The Washington Post, The Wall Street Journal, and The Source to CNN, MSNBC, NPR, BET, and ABC World News Tonight.
Praise
"Hurt is uniquely empathetic to those who fall victim to group-think, and extends this grace to the viewer. Taking a stark look at the psychological, societal, and historical components of hazing, Hurt sparks a captivating conversation around the anxieties and expectations of belonging—and what will be sacrificed to achieve it."
— Shakira Refos | Tribeca Festival
"Hazing isn't simply about the profound harm that is perpetrated on victims and their loved ones. It's also about the perpetrators, what motivates them, and bystanders, their indifference. It's about the leaders who fail to offer a paradigm shift—either because they don't know how or don't have the will to do so—and the members who are content with such leadership. It's about more than one fateful night, but rather about a systemic culture that spans space and time. Byron Hurt's Hazing documentary offers this rich insight but also a glimmer of hope that change is possible."
— Gregory S. Parks | Professor of Law, Wake Forest University School of Law and co-author of A Pledge with Purpose: Black Sororities and Fraternities and the Fight for Equality
"As both a sociologist and fraternity member, I recognize the systemic causes, practices, and ideologies portrayed in Byron Hurt's film. Hazing directly confronts the hypocrisy of Greek-letter organizations that proclaim virtue, yet practice violence.  Watch Hazing to understand why one or the other will become either our hallmark or our headstone."
— Dr. Matthew W. Hughey | Professor of Sociology at the University of Connecticut and co-author of A Pledge with Purpose: Black Sororities and Fraternities and the Fight for Equality
"Byron pulls back the veil of secrecy and reveals the raw truth. His no holds barred examination of hazing is shown from the inside. The brutality and senselessness are laid bare as Byron exposes his own struggle with belonging, betrayal, discovery, and love. He dissects the roots of society's tolerance that allow for hazing to kill each year. We are challenged to think about our steps forward."
— David Stollman | President of CAMPUSPEAK, Cofounder of HazingPrevention.org