Will the movement to privatize public education hurt our students?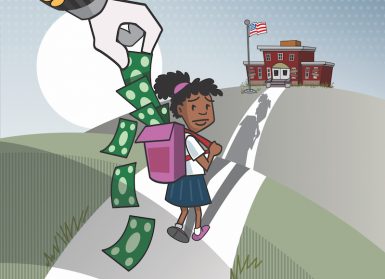 President-elect Donald Trump is under fire from teachers' unions and supporters of public schools for choosing Betsy DeVos, a fierce advocate for privatizing public education, as the next Secretary of Education.
DeVos, a billionaire Republican fund-raiser and prominent school-choice activist, has been fighting for years to steer taxpayer money away from public schools. In the past, she has pushed hard for taxpayer-funded school vouchers for private schools, for publicly-funded but privately run charter schools, and for tax credits for private-school scholarships.
"Her efforts over the years have done more to undermine public education than support students," National Education Association President Lily Eskelsen Garcia said. "She has consistently pushed a corporate agenda to privatize, de-professionalize and impose cookie-cutter solutions to public education."
During her confirmation hearings, DeVos is certain to be pressed on her views, shining much-needed light on how privatization and school-choice stands to affect kids who attend public schools.
If you're looking for ways to engage these issues with your own students, we highly recommend the new Emmy Award-winning documentary, Education, Inc.
In the film, director Brian Malone, whose own kids attend public schools, travels to school districts across the country to see for himself what privatization would mean for public education. Along the way, he takes us inside school protests and raucous school board meetings. He talks to school-choice advocates, public school teachers, students, and parents. And he interviews some of the best-known educators in the country, clarifying the key issues at stake on all sides.
The result is a deeply human look at one of the most important debates of our time, and a must-see film for anyone who cares about our public education system.