What the American media is failing to tell us about Gaza
Israel is once again attacking Gaza with devastating results.
And once again, the U.S. news media are doing an abysmal job explaining what's actually going on.
As Palestinian casualties mount, and as American politicians rally behind Israel, American media coverage continues to repeat Israel's claim that it is simply defending itself against Hamas rocket attacks.
In contrast, there has been little to no serious engagement with Palestinian claims that they, too, are simply defending themselves — against Israeli military aggression and Israel's nearly decade-long siege of Gaza.
If you're looking for reporting that breaks with official U.S. and Israeli propaganda, moves beyond caricatures of Palestinians, and provides context for the current crisis, we urge you to check out the award-winning documentary The War Around Us.
The War Around Us tells th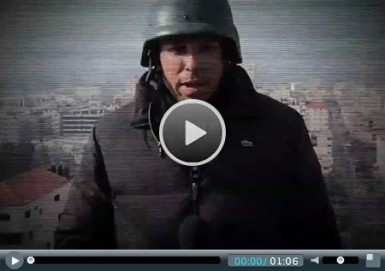 e riveting true story of the only two international journalists on the ground in Gaza during Israel's first bombardment and invasion of the troubled Palestinian territory over
a three-week period in 2008-9.
Mobilizing never-before-seen footage and gripping personal testimonies, filmmaker Abdallah Omeish chronicles the experiences of Al Jazeera's Cairo-born, Arab-American Ayman Mohyeldin and Arab-British Sherine Tadros as they report from Gaza City throughout the brutal assault.
The result is an unflinching portrait of Israel's ongoing siege of Gaza — one that provides a much-needed correction to Israel's repeated claim over the past two weeks that it ended its illegal occupation of Gaza when it withdrew from the Palestinian territory in 2005.
Praise for The War Around Us:
Gripping. Deeply moving. By far, the finest, most accomplished record of one of the most heinous massacres of the 21st century.
Joseph Fahim | Variety Arabia
One of the hardest hitting documentaries I've seen in years, Abdallah Omeish's The War Around Us deserves not only distribution so audiences can see it, but also an Oscar nomination.
Ed Rampell | Jesther Entertainment
This is a film that will shock and appall viewers from around the world, at the same time as providing invaluable inspiration to journalists and student reporters everywhere. I recommend this both for its startling and controversial political content… and for its educational value.
Helen Benedict | Professor of Journalism at Columbia University
Sarah Irving | The Electronic Intifada
Brings one of humanity's greatest injustices to the big screen.
Sami Kishawi | Sixteen Minutes to Palestine