"We need more men to take risks and be leaders."
In case you missed it, MEF friend and colleague Jackson Katz, the creator and star of our new film Tough Guise 2, was featured in an important ESPN Outside the Lines special over the weekend called "Domestic Violence and Sports: Out of the Shadows."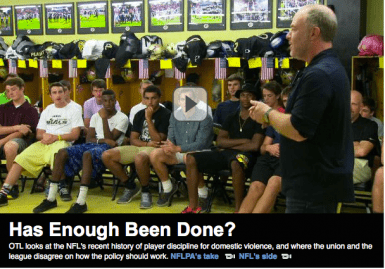 The special brings much needed light to Katz's Mentors in Violence Prevention (MVP) program, which for two decades has been working to empower young men to challenge cultural codes of manhood that too often render men silent in the face of sexism, misogyny, and men's violence against women.
"We need more men to take risks and be leaders on this subject," Katz says. And fortunately, as this ESPN special makes clear, more young men than ever seem to be listening.
For more information about Tough Guise 2, which focuses explicitly on the relationship between gender violence, bullying, homophobia, and cultural norms of masculinity, go here.
For Katz's take on the Ray Rice domestic violence incident that finally forced the NFL to get real about men's violence against women, go here.
The Outside the Lines special is being repeated throughout the week, and is also streaming online.