The real story behind the battle over Google Books
In a landmark decision last month, a U.S. appeals court ruled that HathiTrust Digital Library, an online research tool created by American universities and nonprofits, is not violating copyright law by using scans from Google Books. The ruling was a victory for Google, and a setback for authors and publishers who have been challenging the Internet giant's right to digitize millions of books that are still under copyright.
But the legal battle is far from over. Google's larger claim that it is entitled under the fair use doctrine to scan copyrighted books without permission still faces legal challenges.
If you're looking for a way to engage students in the crucial issues surrounding this ongoing legal battle over copyright and fair use, we want to call your attention to a new film that documents the debate over Google Books in riveting fashion.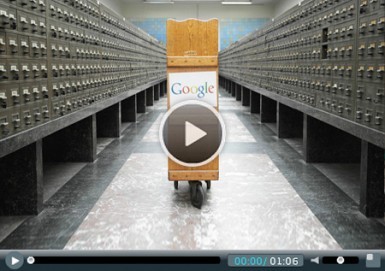 Google and the World Brain: The Audacious Attempt to Control Human Knowledge takes a critical look at Google's ambitions and its claims of fair use. Along the way, it raises serious questions about corporate power, creative control, intellectual property, data mining, privacy, freedom, and surveillance.
Drawing on interviews with Google executives, library directors from around the world, authors involved in litigation with Google, and Internet experts, Google and the World Brain raises a number of tough questions: Is Google Books part of the company's larger master plan to monopolize access to the printed word? Is digitization better left to public institutions like libraries? Will this new database enable Google to track how and what we read? How do we balance the rights of creators with the desire for open access? And can profit-driven corporations really be trusted to act in the public interest?
Google and the World Brain challenges us to consider the implications of the world's greatest library resting in the hands of one of the world's most powerful corporations.
An indispensable resource for courses that look at intellectual property, communication & media, business & law, media ethics, library & information science, information ethics, and case law.
Praise for Google & the World Brain:
This documentary draws attention in a compelling way to the long-term global risks and benefits of the Google Books Project.
Ann Bartow | Professor of Law at Pace Law School
A whip-smart examination.
Kenneth Turan | Critic's Notebook, Los Angeles Times
Endlessly fascinating and engaging. It's probably the best documentary you'll see all year.
Lucas McNelly | The Huffington Post
Four Stars. A fair, interesting, and eye-opening true story. Anyone interested in the future, Google, books, Artificial Intelligence, where science fiction collides with reality, or a culturally relevant story well told, should see this documentary gem.
Scott Cleland | Precursor Blog
Julie Fischer | Indiewire
Offers convincing reasons to pay more attention to Google's utopian schemes.
John DeFore | The Hollywood Reporter