New Film Coming Soon: More Than a Word
Kindly go to setting page and check the option "Place them manually"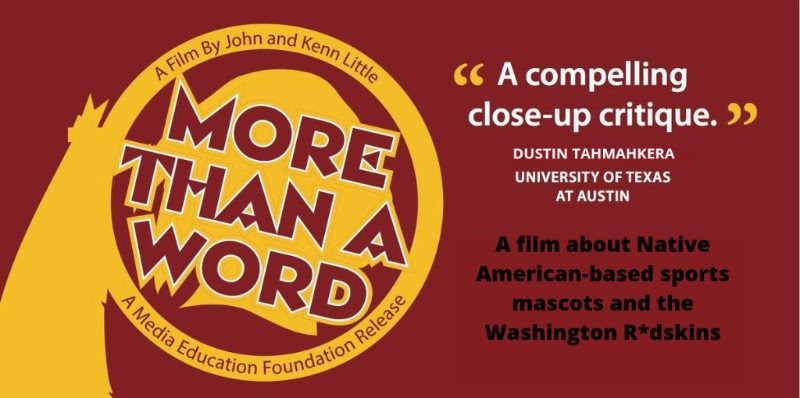 We're thrilled to announce the upcoming fall release of a powerful and timely new film about the accelerating controversy surrounding Native American sports mascots.
Directed by brothers John and Kenn Little, who are members of the Standing Rock Sioux tribe, More Than a Word takes us inside the campaign to change the name of the Washington R*dskins football team.
Drawing on the voices of Native American activists and Washington football fans alike, the film traces how the word "r*dskin" went from being a term of racist derision and slander to being embraced as the beloved name of the one of the most storied franchises in NFL history — along the way reminding us why words, and history, matter.
More Than a Word is slated for release this fall. And MEF will be teaming up with the filmmakers to coordinate screenings during Native American Heritage Month in November.
Don't miss this important and timely new film! Pre-order your copy of the film today.
Over just the past year, the movement to stop using Native American-themed sports mascots has been gaining serious momentum. From campaigns like Not Your Mascot to a recently proposed bill in Massachusetts calling for an all-out ban on Native American mascots in public schools, more and more people have been taking a stand against the misappropriation of indigenous identity and imagery.
More Than a Word is the perfect tool for helping make sense of the issues at stake in this debate as it continues to move into the public spotlight like never before.
We recently screened a fine cut of the film to a packed house of over 300 people. The filmmakers have screened rough cuts in college classrooms and community groups around the country. And requests to host campus and community screenings have already been pouring in.
Look for More Than a Word this fall!
LEARN MORE & SIGN UP TO HOST A SCREENING

More Than a Word makes crystal clear that the fight against Indian mascots is a central part of the wider struggle of Indigenous people for political, educational, and socio-economic justice today.
Kevin Bruyneel | Professor of Politics | Babson College
More Than a Word delivers a compelling close-up of critiques and celebrations of the Washington Redskins and other indigenous-inspired mainstream representations. Standing Rock Sioux filmmakers and brothers John Little and Kenn Little travel across Indian Country to listen to Native activists, artists, and scholars who represent indigenous self-determination in action and whose voices reveal that 'Redskins' is far more than just a seven-letter word.
Dustin Tahmahkera | Faculty Affiliate, Native American and Indigenous Studies Program | University of Texas at Austin
An artistic, political, culturally relevant project from an indigenous perspective. In its final act, More Than a Word winds up — for my money — in one of the most important places we can find, and that's to say: what's next for indigenous people? What would happen if they took control over their own representations?
Dr. Joshua Nelson | Affiliated faculty, Department of Native American Studies | University of Oklahoma