Jean Kilbourne Inducted Into the National Women's Hall of Fame
Congratulations, Jean Kilbourne!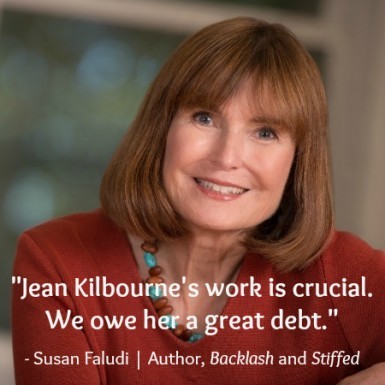 We're thrilled to announce that longtime MEF friend and collaborator Jean Kilbourne was inducted into the National Women's Hall of Fame over the weekend.
The induction ceremony was held in downtown Seneca Falls, the birthplace of the American Women's Rights Movement.
MEF had the privilege of producing Jean's award-winning Killing Us Softly and Killing Us Softly 4 videos, her pioneering analysis of images of women in advertising. We have also had the honor of collaborating with her on a number of other acclaimed films about eating disorders (Slim Hopes), alcohol and tobacco advertising (Deadly Persuasion), and the cultural dimensions of high-risk binge drinking (Spin the Bottle).
In the early days, some people were upset by women speaking at all, let alone about feminism and sexism. But I had something I really wanted to say, I was passionate about it, and so I did it — even though I had to stand behind a podium because my knees were shaking so much.
In its announcement, the National Women's Hall of Fame lauded Jean for how she "transformed the way in which organizations and educational institutions around the world address the prevention of many public health problems including smoking, high-risk drinking, eating disorders, obesity, the sexualization of children and violence against women."
The other inductees include dance legend Martha Graham, Feminist Majority founder and former NOW president Eleanor Smeal, and Carlotta Walls LaNier, the youngest member of the Little Rock Nine.
Telling the truth in a culture awash in lies is a radical act — an act that really can set us free.
The National Women's Hall of Fame was created in 1969 by a group of Seneca Falls community members who believed that contributions of American women deserved a permanent home in the small village where the fight for women's rights began. The hall of fame is a not-for-profit organization.
You can read more about Jean's nomination, and all the other nominees, here.