Invisible and Vilified: Groundbreaking Columbia study confirms Latino media gap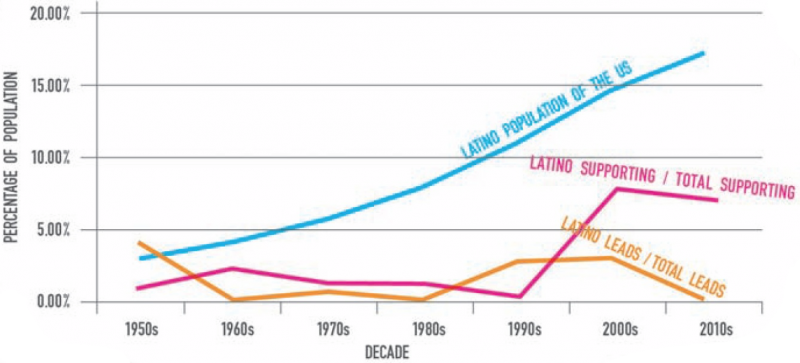 A groundbreaking report has confirmed what Latino activists and media scholars have been pointing out for decades: Latinos are usually either invisible or misrepresented across all forms of American media.
The Latino Media Gap, an exhaustive five-year study led by filmmaker and scholar Frances Negron-Muntaner and Columbia University, found that the number of lead roles for Latinos has been plummeting even as the Latino population has been rising, and discovered that the relatively few Latino actors that do make it on screen are disproportionately cast as criminals and blue-collar service workers.
Limited Roles for Latinos

But despite these grim findings, the report leaves significant room for hope. Negron-Muntaner and her team also found that when media producers do include positive roles for Latinos, it's good for audience share and profits. And they point to a number of key areas where Latino media reform activists have been making a real difference.
To help students understand and actively engage the vital issues detailed in this breakthrough report, we encourage you to check out Miguel Picker & Chyng Sun's film Latinos Beyond Reel.
Latinos Beyond Reel draws on the insights of Latino scholars, journalists, community leaders, actors, directors, and producers to offer a vivid look at the same pattern of misrepresentation and under-representation laid out in this important new study. Ranging from entertainment programming to the nightly news, Latinos Beyond Reel challenges students to think critically about why media images matter and what it will take for our media system to start capturing the humanity and diversity of real Latinos.