Help students think critically about food marketing tactics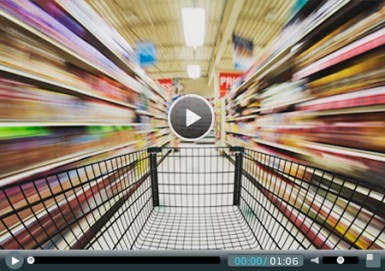 With the welcome news this week that obesity rates in young children have dropped dramatically, and that the White House is now moving formally to limit junk food advertising in schools, we wanted to call your attention to an eye-opening new educational film about the marketing tactics of the processed food industry.
Feeding Frenzy: The Food Industry, Marketing & the Creation of a Health Crisis offers a fascinating look at how, and why, the food industry spends billions of dollars a year to make sure Americans keep eating cheap, unhealthy, high-calorie processed foods despite growing awareness that these junk foods are contributing to an epidemic of obesity and diet-related health problems.
From commercials designed to tap into our emotions and deflect attention away from what's actually in our food, to the endlessly confusing barrage of bogus nutritional claims on food packaging, to marketing appeals aimed directly at young children, Feeding Frenzy reveals how the food industry works to maximize profits by short-circuiting rational thinking – all with the help of massive government subsidies.
As national attention turns now to junk food marketing in our schools, Feeding Frenzy offers students an opportunity to take a step back and think critically about the never-ending bombardment of food advertising that targets them inside and outside the classroom.
Featuring industry analysts, health experts, and advertising scholars, including Marion Nestle, Kelly Brownell, Brian Wansink, Michele Simon, Raj Patel, Yoni Freedhoff, Jennifer Harris, and Sut Jhally.
Praise for Feeding Frenzy:
Feeding Frenzy covers important and, as of yet, unchartered territory as it turns a keen and critical eye on the marketing practices of the food industry. A must-see!
Justin Lewis | Head of the Cardiff School of Journalism, Media, and Cultural Studies at Cardiff University
Powerful, important, and damning. Adds a fresh and essential perspective to current debates about corporate power, food, and health. Watch this film and show it to your students!
Erica Scharrer | Chair of Communication at the University of Massachusetts, Amherst
It's a relief to have the critical eye of Media Education Foundation dissect what's being sold to consumers as a healthy food system. A powerful tool for the public, the classroom, and political discourse.
Alice Julier | Program Director & Associate Professor of Food Studies at Chatham University
Feeding Frenzy makes clear that while personal choice plays a role in food decisions, there's so much more at play.
Margo G. Wootan, D.Sc. | Director, Nutrition Policy | Center for Science in the Public Interest
So many videos on food focus on production, but not as much on the market and consumption side. Feeding Frenzy does a fine job of explaining how our food environment is manipulated to get us to buy and eat more than is good for us.
Christine Barbour | Department of Political Science at Indiana University
Don't miss two other MEF bestsellers about marketing to kids:
For further information about junk food marketing in our schools, check out these two recent studies:
A study published in JAMA Pediatrics found that most children and teens in the U.S. go to schools that have partnerships with food companies. The result is a full range of marketing arrangements, including branded fundraising sponsored by food companies, visits by Ronald McDonald to teach children about healthy eating, and ads on educational websites.
Meanwhile, a new report from Yale's Rudd Center on fast food marketing and consumption says that despite some changes at fast food chains over the past three years (including healthier kids' menu offerings and decreased marketing to kids by some chains), the lives of young people are still saturated with fast food advertising.