10 Things Men Can Do to Prevent Gender Violence
In the wake of the #MeToo movement, more and more men have been checking their own behavior and asking how they can be allies of women to help prevent sexual harassment and abuse. That's why we're pleased to offer this free download of "Ten Things Men Can Do to Prevent Gender Violence," a handout written by leading anti-violence educator and longtime MEF collaborator Jackson Katz.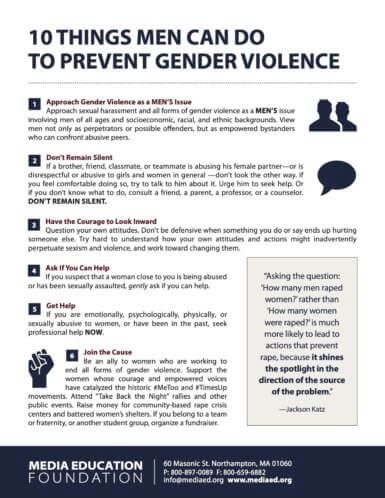 We hope you'll download and distribute this handout over the remaining weeks of Sexual Assault Awareness Month (SAAM), put it to use in your educational and organizing work, and share it with your social media networks.
We also have a selection of films that examine sexual abuse and gender violence. Setting up online access to our films is easy. Just go to the title of your choice on our website and select the streaming subscription option or the streaming rental option.