Norman Finkelstein Lectures At UMass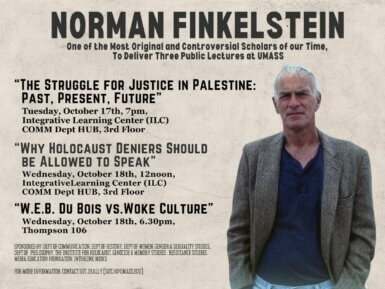 October 17th & 18th — Free & Open to All!
Controversial author and political scientist Norman Finkelstein will deliver three timely lectures at UMass on October 17th and 18th on topics ranging from attacks on academic freedom to the politics of so-called "woke culture" to the ongoing struggle for Palestinian human rights. Finkelstein, an electrifying public speaker and the author of 13 influential books, is a distinguished Middle East scholar renowned for his analysis of the Israeli/Palestinian conflict and the politics of the Holocaust. He is best known for the controversy surrounding his tenure case at DePaul University, where he was denied tenure due to a vicious campaign of defamation led by Harvard Law Professor Alan Dershowitz. The case remains one of the most significant in American educational history involving academic freedom.
Now an independent scholar, Finkelstein has continued to write about pressing social and political issues. His latest book, I'll Burn That Bridge When I Get To It: Heretical Thoughts on Identity Politics, Cancel Culture, and Academic Freedom, is a withering critique of contemporary campus politics, and especially what Finkelstein calls "woke culture." While there have been many right-wing attacks on "wokeness," Finkelstein's analysis comes squarely from the left, examining academic freedom and the suppression of campus speech through the lens of class politics and the possibilities of meaningful progressive social change.
Norman Finkelstein will be joining us for three talks on October 17th and 18th, covering the following topics:
"The Struggle for Justice in Palestine: Past, Present, Future"
Tuesday, October 17th, 7PM
Integrative Learning Center (ILC)
COMM Dept HUB, 3rd Floor
"Why Holocaust Deniers Should be Allowed to Speak"
Wednesday, October 18th, 12PM
Integrative Learning Center (ILC)
COMM Dept HUB, 3rd Floor
"W.E.B. DuBois vs. Woke Culture"
Wednesday, October 18th, 6:30PM
Thompson 106 
For more information, contact UMass professor Sut Jhally at [email protected]